VETO THOSE GOOFY VISUALIZATION EXERCISES
According to Mark Manson, standing in front of the mirror and repeating affirmations saying that you're beautiful only serve to remind you that you're not beautiful right now. "Ironically, this fixation on the positive…reminds us over and over again of what we aren't." A better habit: Just BE. Whether it's beautiful, hardworking, successful, charitable…start living the habit instead of reminding yourself of your shortcomings.
CUT YOURSELF SOME SLACK
Nothing puts you in the pressure cooker more than placing an unrealistic timeline on self-improvement. Want to lose weight this year? Fine…but don't tell yourself you have to do it in three months. Instead, gradually begin small changes (not eating after dinner, taking a dance class, etc,) that build toward your goals without hard-and-fast rules.
BAN THE WORD "SHOULD"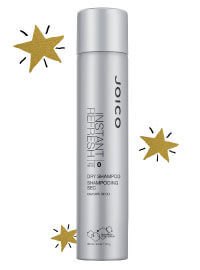 Should can be a toxic part of your vocab, because what if you don't? (Then you've essentially failed.) Here's an alternative approach:
Should thought: "I should wash my hair today."
Negative result: "I didn't have time to and now I look awful!"
More joi-ful choice: "If I don't have time to wash my hair today, no biggie. I'll just grab my Instant Refresh Dry Shampoo and do the full-on shampoo-and-style when I have more time."
PULL OUT THE GRATITUDE JOURNAL
According to leading gratitude researcher, Robert Emmons, finding things to be thankful about (rather than beating yourself up about what's missing) can reduce many toxic emotions, "from envy and resentment to frustration and regret."
CELEBRATE YOUR CURRENT ACHIEVEMENTS
Rather than compiling an intimidating personal punch list for 2019, go into the New Year patting yourself on the back for the things you DID do well over the past 12 months. Maybe it wasn't weight loss (and maybe it wasn't enough hair washes!)…but we guarantee that if you actually look in the rearview with fresh eyes, you'll find plenty of joi worth celebrating.