THE GET-HAPPY QUIZ
True: Feeling happy is a good thing.
False: We're all experts at knowing exactly what makes our hearts sing. Don't believe us? Take this joi-ful quiz and see just how savvy you are when it comes to elevating your own mood…
a) Sky blue
b) Lemon yellow
c) Juicy orange
d) Bazooka pink
e) Flirty purple
a) Citrus
b) Lavender
c) Vanilla
d) Frasier fir
e) Peppermint
a) An 85-degree beach day
b) Snow, snow, and more snow
c) Rainy and 47 degrees
d) B and C
e) Warm but overcast
a) Quinoa
b) Champagne
c) Grapes
d) Dark chocolate
e) A, C, and D
THE (ANSWER) KEY TO TRUE JOI…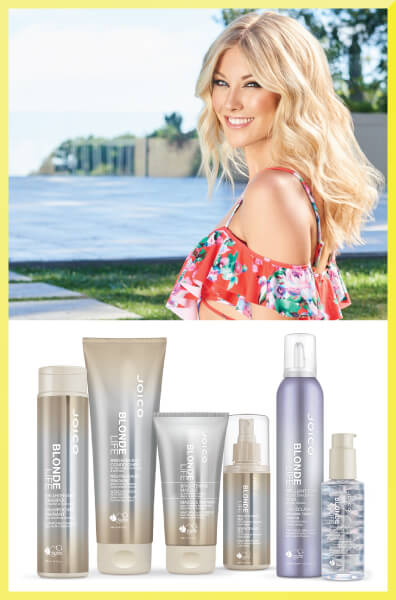 1: When it comes to happiness, lemon yellow squeezes out every color in the rainbow, say researchers, who link the emotional impact of this cheery shade to the sun — an element known to elevate mood and Vitamin D levels. What's more, experts claim that yellow is associated with positive memories, a connection savvy marketing folks know oh so well (McDonald's arches, anyone?). We're firmly convinced it also makes the case for the good feels associated with dazzling blonde hair — sunny, head-turning, and radiantly shiny. So we make sure to keep it that way with our Blonde Life Collection; the legit happiest hair products in town.
2: Citrus scents and the word "happy" go hand in hand (as one very popular fragrance will attest); but — plot twist — it's actually vanilla that's top dog in the mood-boosting department. Studies by International Flavors and Fragrance claim the sweet, rich, tantalizing scent of vanilla bean leads to feelings of pleasure and relaxation. (Disclaimer: They also lead you to crave sweet treats, which may not be happy-making in the long run.)
3: So you nailed the first two questions, but we guarantee you that this answer — B and C –will throw you for a loop. Some scientific studies have shown that negative emotions (like feeling irritable, jittery, or anxious) actually increase in warmer weather. And that could explain why so many of us literally swoon over falling temperatures, boots, and sweaters.
4: Far be it from us to stop you from singing in the car to The Weeknd or Florida Georgia Line, but it's C — music from a favorite time in your life — that's proven to be your lifelong jam. It all correlates to a brain structure called the hippocampus, and triggers "context dependent memory." Or, in simpler terms: If your very favorite childhood summer included beach parties with Britney Spears tunes, chances are, you're going to smile like a fool whenever Hit Me Baby One More Time comes on the radio.
5: A glass of bubbly might be your number-one celebratory drink, but if you want to get seriously scientific, alcohol is actually a depressant…which is why the answer to this mind-bender is actually E: Quinoa contains a flavonoid that has a noted anti-depressant effect; dark chocolate gets you giddy by raising endorphin levels; and grapes contain resveratrol, an antioxidant proven to boost your mood.