FAKE IT 'TIL YOU MAKE IT: FAUX ROOTS
Featuring Joico Global Brand Storyteller, Olivia Smalley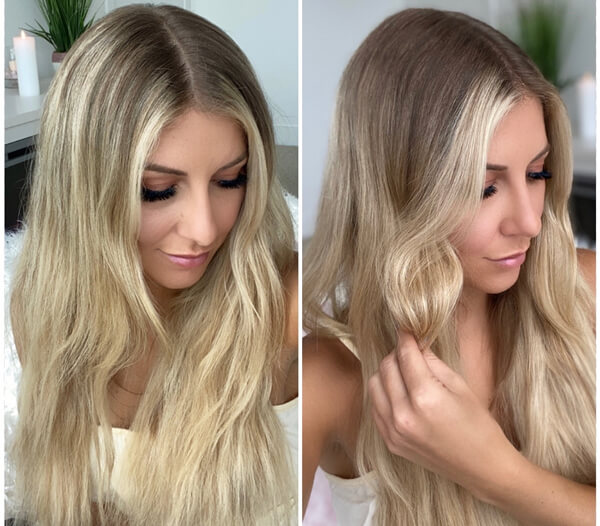 Joico Global Brand Storyteller, Olivia Smalley, is known for her long, gloriously blonde mane. But one day, she was hankering for a little dimension in her 'do; and conjured up the magic of a dark, rooted look without changing a hair(color) on her head. "This trick is great for hiding grays, regrowth, and camouflaging any unwanted hairlines, with the commitment of an actual color service," explains our Houdini of Hair. After applying her "roots," Olivia then pivots to the almighty Money Piece – extra-blonde strands that frame the face – and manipulates them for serious Pow!
A large (clean!) powder makeup brush
THE 411 ON TINT SHOT
Get to the root of the problem with a few strategic passes of Tint Shot, our magic-in-a-can that camouflages – or, in this case, creates! — dark roots in seconds. The flash-dry formula, pollution shield, and easy-to-match shade blends and even fills in thinning areas to create the illusion of thicker, fuller hair. Washes right out at your next shampoo.

HERE'S HOW TO PULL OFF OLIVIA'S LOOK
1. Place the towel over your shoulders to protect light clothing from any overspray.
2. Spray your makeup brush with a few spritzes of Tint Shot (it's a more subtle, diffused way to apply the product, because it "melts" into your blonde hair).
3. Whisk the brush over hair roots, directing it downward on each side.
(Pause to admire your instant Ombré!)
4. Lift the front, brighter pieces of hair directly up and spray liberally with Weekend Hair Dry Shampoo. Flip to one side (creating a slightly off-center part) so all the blonde is maximized in one heavy section; and brush through for smoothness.
View this post on Instagram