We're back with an all-new, media-centric chat with one of the world's most respected, talented, social-savvy hairdressers. Goal: They spill the secrets of their success, online and off…and you learn from the best of the best.
Creative genius Phil Ring takes over the column today with his no-holds-barred take on media, hair…and life!
Don't make this mistake!
Not having a bio, absolutely. ALWAYS make sure people can see what city you work in. I hate going to peoples' pages where it doesn't give a location. Secondly, STOP copying and pasting the same comments on different photos. Be original and tell a story!
How do I get started?
Honestly, I really took off with four things:
Good photos of my work took me to 1,700 followers.
Pixelated hair skyrocketed me to almost 50k
And people wanting to stay in touch with me during my chemo (I had prostate cancer). Guess that speaks to the upside of sharing some of your personal life with your fans.
Working with brands like CosmoProf and Joico help me grow even more followers in the beauty industry. It's definitely a win-win.
I want to get engaged!
Engagement is such a huge part of social media, because it is SOCIAL media. The apps reward those people who use them more often by making them easier to stumble upon. I just make sure to be really good about commenting on pages, and I use it to stay in touch with friends. Most important, though: Be authentic.
How in the world does an "ordinary hairdresser" land a celebrity client?
Hmmm…I still haven't really had that, BUT I've been to lots of events with celebrities, and I think that's a huge start. For me it all began by volunteering for a production company; they took me to many big events and let me interview the people on the runway. It's definitely a foot in the door.
Hands-down favorite celeb moment. Go.
I really loved interviewing Mario Lopez and his wife. He was as cool of a guy as I remembered him being on Saved By The Bell. And even though people doubted I could keep my hands off him, I totally did!
Dream celeb?
Sia! Or Lady Gaga. I just want to work on wigs for them. I think they'd both look great in something pixelated.
I'm about to post a pic. Now what?
I do whatever I feel like. I don't have a method, BUT I do know how to add 50 hashtags instead of 30! Post the first 30 in the first comment and then go back up and change the caption to include 20 more. BOOM…now you have 50!
This is the moment I knew…
Honestly? The first time I got to film a video with Joico. it was so awesome, because I had such a huge team behind me. It was nice to be able to focus on hair and not the production. I appreciate Joico for filming me even when I looked my worst, and they never doubted I could do it.
If you weren't in the hair biz…
I'd probably be in the nursing field. I always wanted to be in healthcare (even have a tattoo to prove it), but I am SO happy doing what I do now.
Ding Dong! Have I got a tool for YOU.
My start in the hair industry was a little unconventional. I was selling sex toys door to door in a small town outside of Phoenix, when I came across a salon. The girls in there became my close friends, and I ended up working there as a receptionist. After enough people called and tried to book with me, I realized I was missing out by not being able to do services. Sometimes, being a guy really does help.
You're the subject of a book. Quick: What's the title?
The Man Who Left An Impact.
What are you eating when no one's looking?
Slim Jims, LOL.
That hair moment you'd like to forget — but can't
After I came back from Sassoon, I cut everyone's fringe too short. I'm not talking one or two people. I'm talking multiple people's fringes.
Who gives you serious hair envy?
I'm definitely jealous of anyone that gets their hair done by Guy Tang or Zach Mesquit. I would trust either of them to give me something awesome.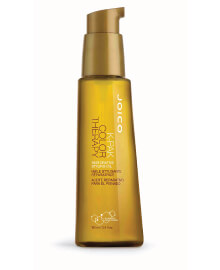 I die for this product
Oil! Oil! Oil! Oil! Now that people are doing more bleach and tones for the direct dye services, hair needs far more moisture in order to help the open cuticles slide next to each other without catching. My favorite is K-PAK Color Therapy Restorative Oil.
You're the president of a fan club. Whose is it?
Ian Michael Black. I love his cool, calm, and collected demeanor. His work is perfect and it just seems so effortless. He's an amazing speaker as well.
You want me to do WHAT????
Hmmm…the craziest thing I have ever been asked to do was move to Shanghai to work for a company I barely knew anything about. I hated their products, so I would have been a big time sellout.
And the haters gonna hate, hate, hate, hate…
I used to get super upset. Then, during the whole rise of pixelated hair, I got 10 times as many negative comments. Now I'm used to it and will normally leave them on my page, because my followers take care of them for me. It helps the post become more popular if there are lots of keyboard warriors on there. I have a love/hate stance on negative online comments.
What gets your creative motor running?
I loooove incorporating imaginative ways to do color applications, or telling stories through video. I need to have a creative sidekick around for that to work, though.
ROTFL
Everything LOL. I just laughed at the question! But seriously, lots of times I laugh at myself more than anything.
Hey, any advice for us folks in small towns?
Just find models. Make your money doing what you can; and when you want to create specific content, do it on a day off and don't even charge for it.
Do NOT ask me to do this
I don't want to go do boring things or help anyone run stupid errands ? I just want to relax.
It's a wrap
I love working on videos and learning more about what you can do with film. Also I've started cooking, so there's that.
On your phone AGAIN??
Yikes…. sometimes I'm online for, like, 5+ hours a day. It's a serious business, for sure.
 It's 2028. What are you doing?
Just getting through this year. Ideally, I would want to be sponsored by a clothing company and have my food paid for. A housekeeper would be awesome to have as well!
Speak to a young Phil…
Begin promoting yourself ASAP. Don't wait for anyone to help you start something; just start it and have them help you once you can't carry the burden on your own.
Can I just skip this career moment, please?
Worst mistake I ever made was trying to raise my prices too high, too fast.
Sooo glad I did this.
Even though I lost most of my clientele, moving across town gave me more free time to work on my art.
Hashtags. Good, bad, overused?
Use them as much as possible.
How not to drown in social media…
Always reply to notifications as you get them. I start on Instagram and work my way through to Facebook. I do wish I was using YouTube more, though.
Can we not see any more of this, please?
Auto likes and generic comments.
Letting it all hang out — not.
I post everything except the naughty stuff! I don't want to piss people off with posting too often, so I tend to save it all 'till the end of the day, and make a fun video out of it. That way it's all curated perfectly.
If I never see these words again, I'll be happy
Om nom nom.
Enough already!
Chunky highlights. Don't want to see them again.
Bucket-list hair client
I would die to do Adam Levine's hair.
My all-time favorite app…
Facetune 2.
Addicted:
My phone and my camera. They're glued to me.
Show us the money
No budget for social media, but I definitely invest in any app worth buying — no question.