WELCOME ABOARD!
We couldn't be more thrilled to roll out the welcome mat for two superstar hairdressing talents, both of whom have made a major mark on our industry; and are set to bring a treasure of buzzworthy ideas, education, fun, and savvy to Joico.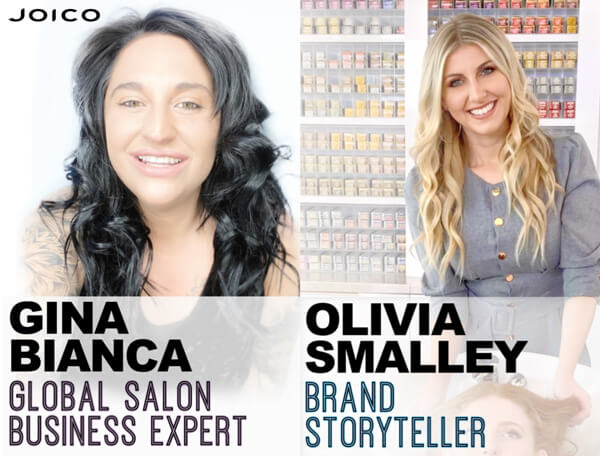 LET'S MEET…GINA BIANCA,
JOICO GLOBAL SALON BUSINESS EXPERT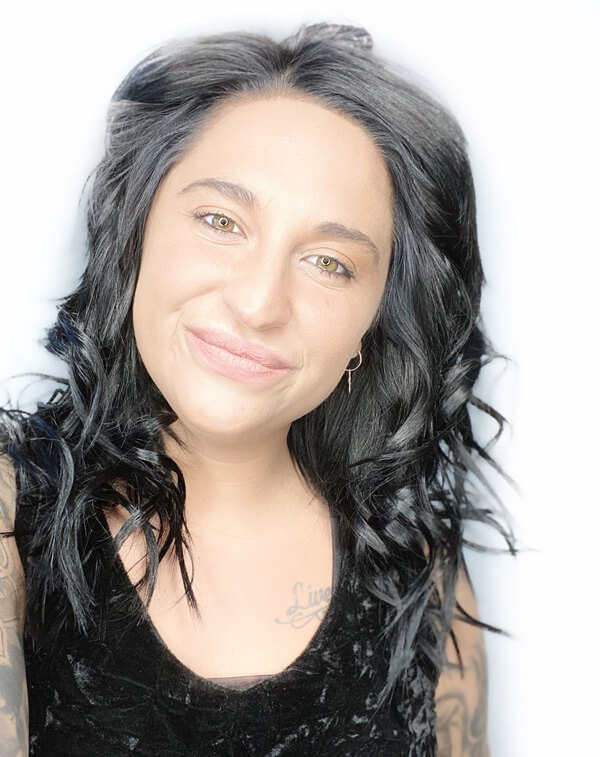 With an impressive track record as an international hair educator, this two-time salon owner has made a serious name for herself as a top-notch biz-building expert – not only teaching thousands of stylists about the fine art of color placement, but also showing them exactly how to grow their business and take themselves to the next level. Known for her "honest, blunt, and comedic approach to education and empowerment," Gina is going to open her vast portfolio of knowledge and deliver up-to-the-minute ideas, guidance, and late-breaking trends that you can put into practice for immediate, money-making results.
"I'm so happy to work with a company who not only sees my value, but sees the value of every stylist in the trenches…"
Advice for 2020…
Don't send your staff to a class…GO WITH THEM!
Most proud of…
My Mastermind group – it's my online education platform where I create hair, business, and marketing content for my members…plus, we have amazing group support. Mastermind was an idea that turned into something so beautiful because it helps create and sustain amazing relationships. We meet in class, but we have a place to grow — besides Instagram. I love building relationships with my followers and helping them through their growth.
My gift to you…
I truly love teaching. I am gifted in being able to break down anything for all levels to understand. My followers love my business content and my honest insights about the climate of the industry today.
On the personal side…
The real me is a down-to-earth person who values love, learning, and giving back. I'm engaged to the best guy ever, we have two beautiful puppies, and can't wait to have a family together. In my free time, we play Mario Kart, travel, watch shows like The Office and Law and Order SVU. I am the same as everyone else — just trying to make a difference, take care of my family, and love what I do every day!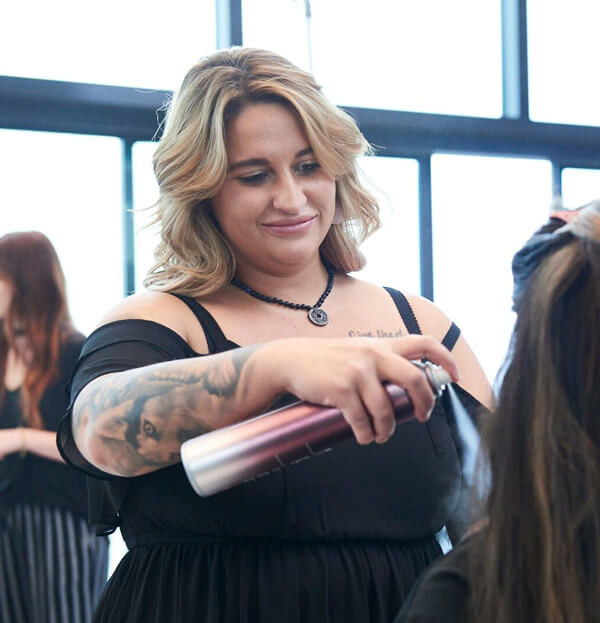 Need this stranded-on-a-desert-island product:
Beach Shake Texturizing Finisher.
A day in my favorite city…
Las Vegas is one of my favorite cities, and the place I have spent the most time traveling. Here's my typical arrival routine:
• In and Out Burger upon landing, to slam a double-double with no tomato, fries, and a lemonade.
• Check in to The Four Seasons Las Vegas (an affordable yet gorgeous property) – it's on the quiet side of the strip and has an AMAZING spa!
• Dinner at Giada (make sure you go with a lot of people so you can taste EVERYTHING on the menu, including her espresso martini.
• Take in some shows: Lady Gaga has a residency there, so if she's playing I am there! Carrot Top has THE BEST COMEDY SHOW on the strip – I've seen it many times .
LET'S MEET…OLIVIA SMALLEY,
JOICO BRAND STORY TELLER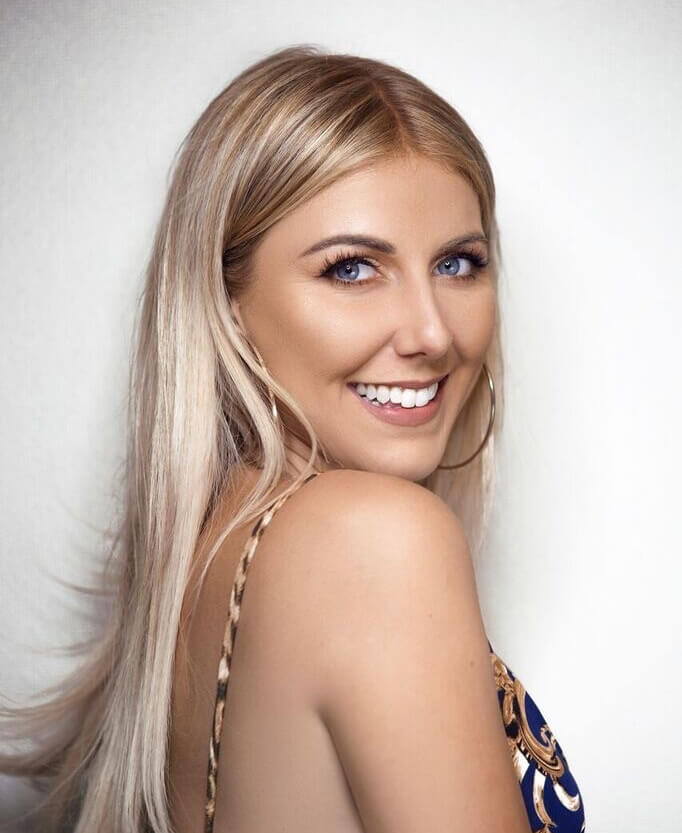 Smalley, in addition to being a blonde specialist, an extensions expert, a makeup artist, and a total tutorial wiz (@HudaBeauty highlighted Smalley's talents by sharing her mesmerizing "Water Bottle Curls" video), this brilliant educator knows the value of learning and has been teaching audiences everything she knows about working social media. Not only a social butterfly, this "monarch" of social media is also a "blonde-hair damage killer" and she's ready to jump on board full time with Joico and help you learn every trick in the book designed to keep hair radiantly shiny and healthy, while showcasing it to perfection on all online platforms she'll help you conquer!
"Joico is like my family. They have always taken care of their artists, including me. As a blonde specialist, I'm all about hair integrity – and they truly understand the importance of maintaining healthy blonde hair."
Advice for 2020…
Keep up with social media consistently. Growing an online presence helps to grow an offline presence. It is what will get clients in your chair, get brands to notice you, and open up opportunities you could have never dreamed of.
Most proud of…
Joining Joico. This has been a dream of mine for so long, and I'm extremely excited and honored to be joining this team. This is definitely the biggest milestone I've hit.
My gift to you…
I combined all of the tools I have in blonding and content creation, and heavily promoted it online to build a solid following. I plan to use that expertise to help you master your own lightening skills, and then share that newfound talent with the world.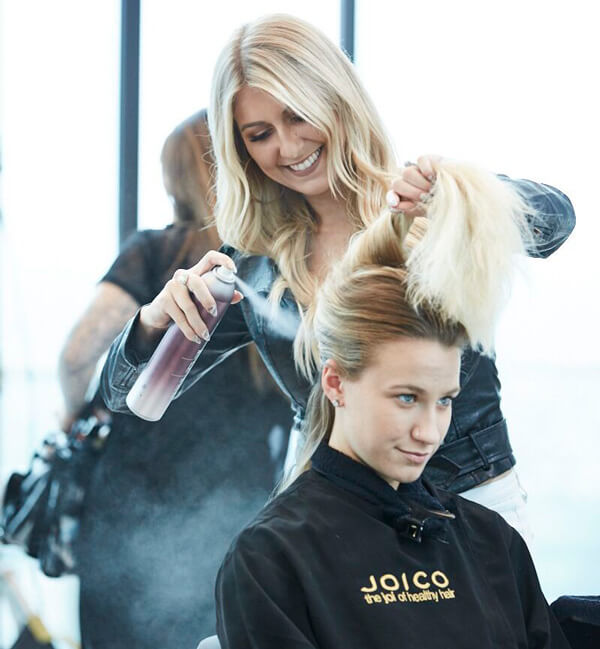 On the personal side…
I am sensitive. Most people forget that there is a human being on the other side of the screen; and things can (and do) get to me. Luckily, I don't have too many online "haters," but this is why I always take other people's feelings into consideration.
Need this stranded-on-a-desert-island product:
Weekend Hair Dry Shampoo – because I'm assuming this desert island won't have a shower for me to properly wash my hair!
A day in my favorite city…
I live in Fort Lauderdale and spend as much time as I can there, because I love it! Here are my faves:
• El Camino for great drinks, tacos, and atmosphere.
• Big City Tavern has amazing food and is a local hot spot.
• Louie Bossi's has the best authentic Italian food.
• Montce Swim is where I find all my cutest swimwear.
• The Wandershop is my favorite boutique in all of Fort Lauderdale.