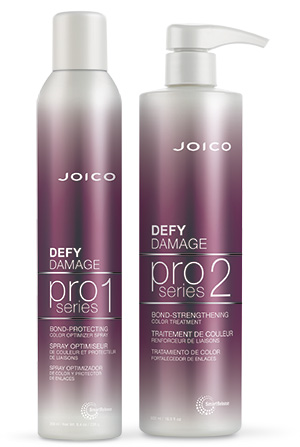 "Defy Damage ProSeries has been absolutely game-changing for me in the salon. Not only does it give my clients healthier hair; but as a stylist, Defy Damage ProSeries makes my process so much easier." – Jill Buck

Defy Damage ProSeries 1, Joico's Bond-Protecting Color Optimizing Spray, starts the process of healthy-hair transformation with an easy spray-on application. Defy Damage instantly goes to work, strengthening and rebuilding bonds, heightening product performance, and providing powerful (and immediate) damage protection right before your eyes.
And those clients, like superstar Julianne Hough, truly appreciate Jill's emphasis on hair health. "I'm really fortunate to have a lot of hair; it grows so fast. But Jill focuses on the health of the hair rather than just what it looks like. It's a double- whammy for me! I get to reap all the benefits!"
It's completed with Joico Defy Damage ProSeries 2, Bond-Strengthening Color Treatment at the shampoo bowl, where those same breakthrough ingredients — Arginine, Moringa Seed Oil, and a Protective Lipid — team up with Joico's SmartRelease Technology, a one-of-a-kind liposome delivery system that continuously releases powerful Rose Hip Oil, Arginine, and Keratin.
For Jill Buck, the system is also a time-saver – skirting the additional step of lengthy post-color conditioning treatments that endlessly keep a client at the shampoo bowl.
Jill's favorite way to use Defy Damage ProSeries 1 and 2
Step 1
Start with Joico Defy Damage ProSeries 1 Bond-Protecting Color Optimizer Spray. Make sure you shake the can very well.
Step 2
Spray in short bursts down the shaft of the hair, away from the client's face. Always start in the back and move to the front.
Step 3
After you saturate the hair, always comb the product through for even distribution.
Jill's Secret Tip: "This is a great time to explain to the client why you are using the service, and what Defy Damage is doing to the hair. Explaining your step builds trust!"
Step 4
Move on to your foiling/coloring technique of choice.
Jill's Secret Tip: "If you're foiling areas that could use extra protection – like fragile ends or front pieces -- brush those sections with Defy Damage ProSeries 2 Bond-Strengthening Color Treatment before applying the lightener. It will provide a nourishing barrier."
Step 5
Once color is finished, apply Defy Damage ProSeries 2 Bond-Strengthening Color Treatment before applying toner.
Jill's Secret Tip: "This seals in color and allows me to work through the hair very easily before applying toner."
Step 6
Apply toner; rinse and proceed as usual.
Step 7
Apply Defy Damage ProSeries 2 Bond-Strengthening Color Treatment and Leave on for 5 minutes (or for longer saturation and a deeper conditioning treatment, allow hair to process for 30 minutes), then rinse.
Step 8
Send your client home with Joico Defy Damage Home Care System to continue to protect the hair and provide lasting color for your client between color services.