MAKING A SPLASH
With Joico Global Brand Storyteller, Olivia Smalley
Having fine, dry hair is a tough combo. And no one knows that better than Joico Global Brand Storyteller, Olivia Smalley, whose long, blonde, trademark mane is a perfect example: If she reaches for a deep conditioner, hair becomes heavy, flat, and lifeless. If she skips conditioner all together, strands become positively parched. The answer? Joico's HydraSplash Collection – a 24-hour, light-as-air moisture surge made especially for delicate hair. Olivia test-drives the products on her own hair with WOW results, right here.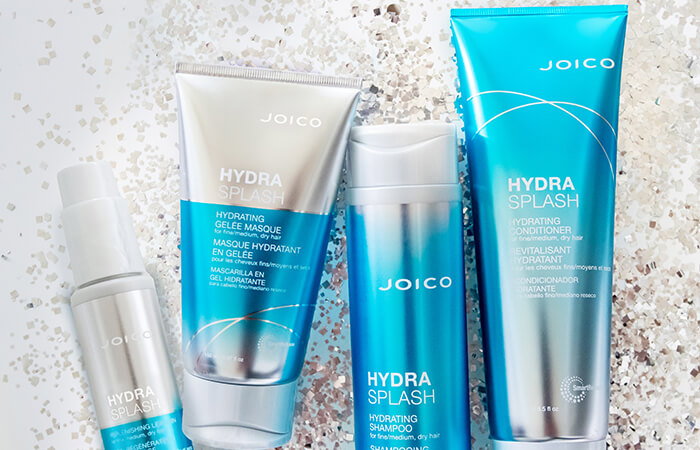 Meet HydraSplash
The HydraSplash Collection – a 24-hour hydration system, including Shampoo, Conditioner, Gelée Masque, and Replenishing Leave-In treatment – is specially designed to quench fine-to-medium, dry hair with nourishing coconut water and nutrient-rich sea kelp; delivering an instant transformation without weighing down delicate strands. Here's how the ingredients in this unique collection work together to create shine, softness, and a moisturizing metamorphosis on fine, dry, fragile hair.
COCONUT WATER
Rich in Vitamins A, C and E, is a great source of electrolytes. This natural hydrator helps quench dry strands.
SEA KELP
Packed full of vitamins and minerals, helping to provide targeted moisture and vital nutrients for fine to medium, dry hair.
SMARTRELEASE TECHNOLOGY
Our one-of-a-kind liposome delivery system, packs a punch – continuously releasing RoseHip Oil, Arginine, and Keratin to help repair, strengthen, and protect hair from the cumulative effects of daily styling.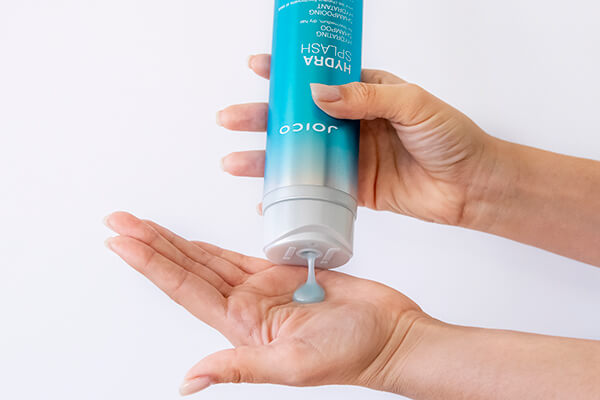 Olivia's start-to-finish HydraSplash routine
Step 1: The Nourishing Cleanse With HydraSplash Hydrating Shampoo
When her long, fine hair is thirsting for a tall drink of water, Olivia whips out the lightweight Hydrating Shampoo that swiftly quenches without getting all heavy on her.
Unlike thick, cloying moisturizing shampoos that can weigh down delicate strands, this luxurious lather has a uniquely gentle touch, so fine hair is quickly rid of dirty residue, yet vital, natural moisture is left behind to soothe and nourish. Formulated with ultra-hydrating marine ingredients like Sea Kelp, plus an infusion of Coconut Water, Olivia's hair immediately feels brilliantly clean, super soft, and healthy-looking
Step 2: Light-As-Air Moisture with HydraSplash Hydrating Conditioner
Olivia routinely bypasses those dense, overly-creamy moisturizing conditioners that leave her fine-to-medium hair flat, limp, and lifeless. This perfectly-calibrated formula takes a lightweight approach to moisture that delicate strands demand. Developed with ultra-hydrating marine ingredients like Sea Kelp and thirst-quenching Coconut Water, hair gets an immediate, lightweight splash of moisture, along with a detangler that boasts exceptional slip and glide power. Together, they provide the kind of elasticity and strength that makes Olivia's fine hair swingy, shiny, and easy to manage.
Step 3: A Gentle Treatment With HydraSplash Hydrating Gelée Masque
Once or twice a week – depending on how much time Olivia spends in her beloved Florida sun and surf – she treats her fine-to-medium hair with a concentrated wave of moisture. This refreshing, gel-based Masque delivers exactly what Olivia needs…but with a uniquely light touch. Designed to infuse hair with healthy hydration without weighing down delicate strands, this thirst-quenching formula – infused with nourishing marine ingredients, like Sea Kelp and Coconut Water – takes a thoroughly revitalizing approach to moisture. In just a single, five-minute treatment, fine hair will be hydrated and delightfully frizz-free.
Step 4: Pre-Blowdry Protection With HydraSplash Hydrating Replenishing Leave-In
Just as overly rich conditioners can leave fine hair flat as a pancake, a heavyweight pre-blow-dry styler can do exactly the same thing. That's when Olivia switches to a Leave-In that's specifically designed to care for finer strands. Developed with nutrient-rich, super-hydrating marine ingredients, like Sea Kelp and Coconut Water, this refreshing, lightweight styler is perfectly balanced to deliver a splash of hydration, shine, and softness for a full 24 hours. What you won't get? Dreaded frizz…or that flat hair caused by heavy, cloying styling creams.