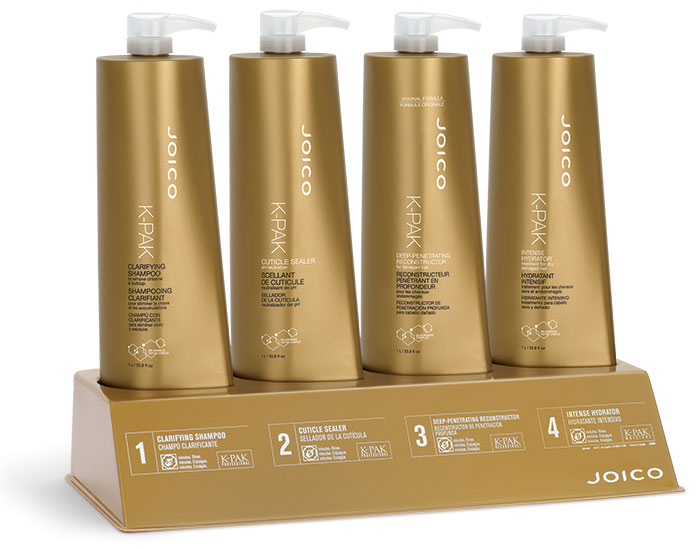 Optimize Hair Reconstruction
Before and After Chemical Services
As an in-salon treatment to dramatically enhance the condition and end result of every service
Before any Vero K-PAK Color service to enhance the condition, vibrancy, and longevity of haircolor
*Be sure to follow specific instructions for use before color or texture service
Before any texture service to enhance the condition, definition and longevity of perms, waves and straighteners
The Four Steps of the
K-PAK Hair Repair System
Step 1
K-PAK Clarifying Shampoo
2-5 minutes and rinse


To remove chlorine, minerals & product buildup
Step 2
K-PAK Cuticle Sealer
5 minutes and rinse

pH neutralizer
Step 3
K-PAK Deep-Penetrating Reconstructor
5 minutes and rinse

To repair damage

Note: for extremely stressed and damaged hair, repeat step 2 (acidify) and step 3 (reconstruct) up to three times for maximum results.
Step 4
K-PAK Intense Hydrator
2-5 minutes and rinse


For damaged hair
Damaged Hair
Revive and rebuild hair from the inside out. Reduce breakage as tensile strength is restored and porosity is equalized.
Chemical Services/Color Treated
For shinier and more vibrant color that lasts longer. Make texture and straightening services look better and last longer.
Dry Hair
Get smoother, softer, shinier hair with replenished hydration levels.
Fine Hair
Hair with more body and life making more responsive to styling with longer-lasting styles.
Curly Hair
Revive hair, making it more resilient with long-lasting shine.