SHAMPOO FOR A COOL 'DO
With Joico Global Brand Storyteller, Olivia Smalley
If anyone is willing to prove the power of Color Balance Purple Shampoo, it's Joico Global Brand Storyteller, Olivia Smalley. This gumption-filled gal is broadcasting from her shower today, to show us just how simple it is to return brassy blonde to a nice, icy tone without a trip to the salon. If that isn't a commitment to cool, we don't know what is….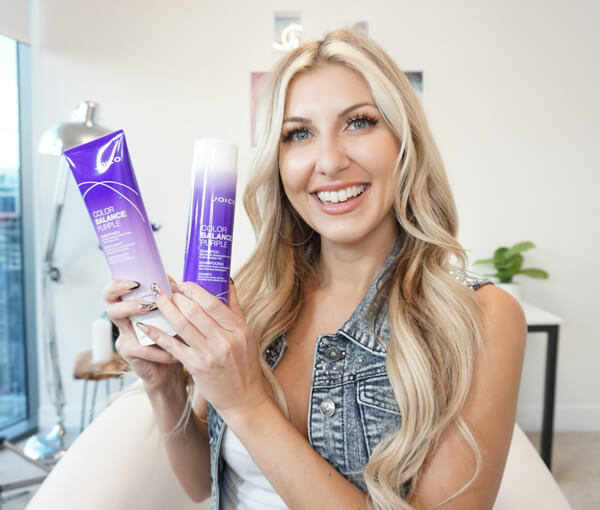 Olivia's story
Our popular hair artist has legions of rapt Instagram fans who regularly tune in, not just for her brilliant hair hacks and tips, but also to see what she's going to do next in the name of beauty. Today, it's a (G-rated!) shower sesh, demonstrating how she returns her blonde hair to that favorite cool tone, minus the brass.
Blonde hair can take on a yellow-ish cast no matter where you live. But for Olivia, who's home base is sunny Fort Lauderdale, the brass issue is especially prominent. "My hair's exposed to sunscreen, chlorine in the pool, and I'm constantly outside," she explains. "My absolute favorite go-to for de-brassing is Joico Color Balance Purple Shampoo. It doesn't dry out my hair, feels extremely moisturizing, strengthens and protects each strand, and allows my hair to receive the tone I'm looking for without taking it too silver."
With Joico's Color Balance Purple collection, staying true to your hue has never been easier. Featuring SmartRelease Technology — our one-of-a-kind liposome delivery system that continuously releases powerful Rose Hip Oil, Arginine, and Keratin for round-the-clock protection – the immediate, color-correcting formulas pack antioxidants and UV absorbers to help repair, strengthen, and protect hair.
But what if you're brunette and you hate brassy hair, too?
Joico has you covered. You can kick brass to the curb and keep rich, brunette hair free of unwanted orangey tones with Color Balance Blue Shampoo and Conditioner – a targeted color-correcting duo that instantly neutralizes warmth as they gently cleanse and hydrate the hair. With a perfect balance of color protection and ingredients that strengthen each strand, you'll get super shine, 2X stronger hair, and true-to-hue color.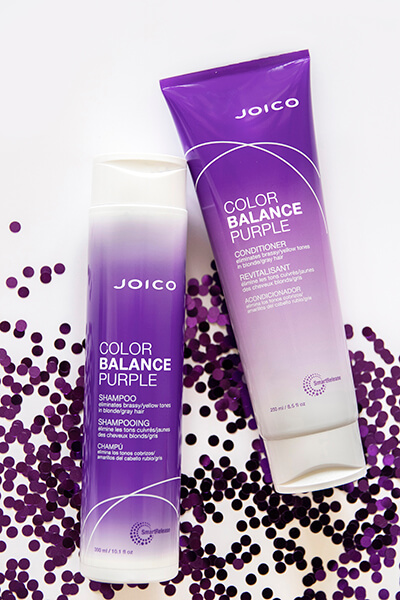 WATCH OLIVIA SHOW YOU HOW