View this post on Instagram
What was SUPPOSED to go down: According to hairstylist, Nikki Lee, the game-plan was simply a blonde touch-up. But Emma hit the chair and went rogue and reportedly said, "Let's change it up!"
Change is Emma's M.O.: Known to be somewhat of a hair-color
chameleon, the actress has bounced from blonde to red to brown to pink, and even the occasional auburn. So when Emma and Nikki debuted the new chocolate-y brown shade on their individual Insta pages, it likely raised few eyebrows. What it DID raise was the hair-color bar, because the new brunette look is a stunner.
What makes it different: This deep-brown dances with caramel highlights, giving the darker look a sense of depth and dimension – and the perfect play against Emma's green eyes.
Nikki's Brand NEW Protection Strategy
She whipped out new Defy Damage, a complete game-changer in bond protection and hair transformation. It instantly strengthens hair, and protects each strand against splits, breakage, color fade, and the ravages of daily styling. Nikki began with Pro Series 1, a dry aerosol spray that she applied in short bursts to Emma's dry hair prior to the color service. Then finished with an application of Pro Series 2 for five minutes at the shampoo bowl. The fade protection and shine were instantaneous and ensured that Emma's new color will stay perfect…until she opts for her next change!
Emma's Joico Formula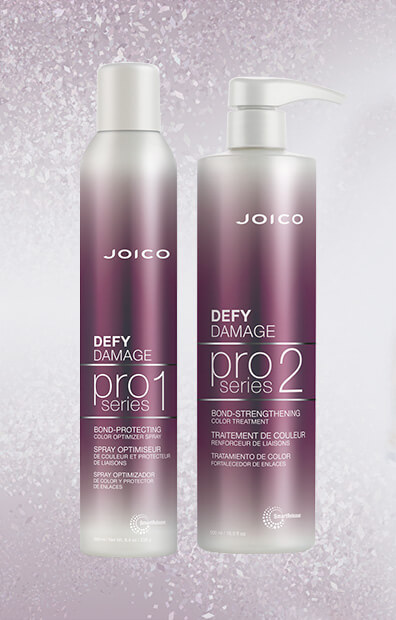 Before filling: Nikki sprayed Defy Damage Pro Series 1 throughout Emma's hair
Fill Formula: LumiShine Demi-Permanent Liquid 10NC + 8NC with 5 Volume LumiShine Developer
Base Formula: LumiShine DD Demi-Permanent Crème 6N + 6NG with 5 Volume LumiShine Developer
Ends Formula: LumiShine DD Demi-Permanent Crème 8N + 6NG with 5 Volume LumiShine Developer
Gloss Formula: LumiShine Demi-Permanent Liquid 5N + 8NW with 5 Volume LumiShine Developer