THE BUTTERFLY MONEY-PIECE
With Joico Global Brand Storyteller, Olivia Smalley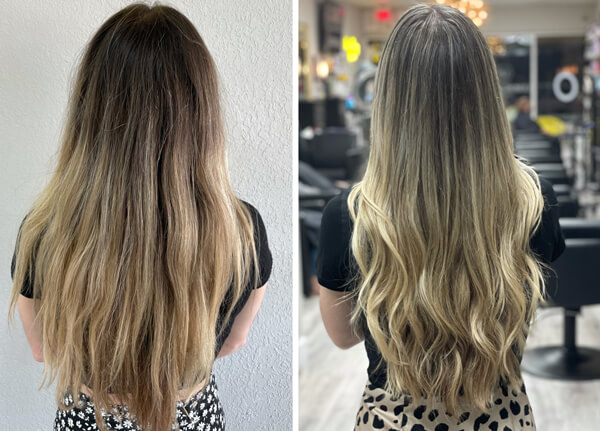 Fanning out at the front of the face like a beautiful blonde butterfly spreading its wings: the money-piece! And Joico Global Brand Storyteller, Olivia Smalley, is a master at gilding this attention-getting placement; just check out the dimensional blonde look she's created, using Blonde Life Powder Lightener to bump up face-framing highlights. We've got video and how-to's here:
FAQ.
Blonde Problems: You Asked. Olivia Answered.
Q. Who's the ideal client for this money-piece look?
A. Anyone who'd like to switch up their highlights with something bold. The reason? Adding a super light money-piece is focused drama at the front.
Q. How can you add depth and dimension to a really icy blonde?
A. Use LumiShine Liquid Demi-Permanent Color for lowlights…but make sure you're working at the same level. If you veer too far, the lowlights will be noticeably darker or lighter than the natural color.
Q. How do you avoid going so ashy that the client starts to feel they look gray?
A. I recommend adding Clear to your formula to avoid overprocessing.
Q. Once your client is blonde, what kind of care routine do you send them home with?
A. Three rules:
1. I always recommend K-PAK Color Therapy Shampoo and Conditioner to help maintain the tone.
2. Avoid scalding-hot water, as it speeds up color fade.
3. Always, always, always use heat protection before styling. Defy Damage Protective Shield is perfect.
View this post on Instagram