THE TEXTURE TRANSFORMATION
With Joico Global Artistic Director, Richard Mannah
"Working with textured hair is different," says Joico Global Artistic Director, Richard Mannah. "Not only do you need to be technical, but you also need to be visual – constantly moving the hair to see how the curls are responding to your scissors." Here, e shows you the art of mastering this challenge – and gives you his 10 secret pro tips that will change the way you approach textured hair.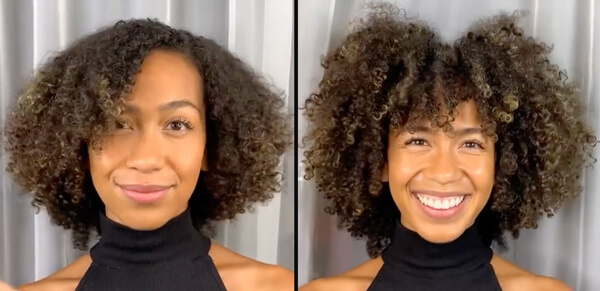 The Back Story:
Watch Richard's video, and you'll hear the gorgeous strains of musical artist and client, Genesis. You'll also see her perfectly shaped, textured hair – a transformation that Richard created by maintaining length on the bulk of her hair, but adding strategic layers to bring up volume at the sides and crown.
Richard's 10 Secret Pro Tips for Nailing Textured Hair
Start with a good consultation. It's really important to listen to your client explain what they want and don't want.
Don't use a comb. You need to work with the natural texture of the curls.
Cut each piece individually, moving throughout the hair to see which pieces need trimming.
Work your fingers through the hair to allow the hair to breathe; and see what strands are doing as you move along.
Trim as needed around the front of the hair, making sure to leave the bottom layers alone, so you don't lose too much length.
Don't be afraid to have your client play around with their hair as you're cutting; this lets you can see how they like it, and you can work your cut around that.
Start small. The last thing you want to do is cut overly short and have the hair come up too high…so work slowly. You can always cut more as needed.
To add softness, smoothness, and shine to the hair, finish with Joico K-PAK Color Therapy Luster Lock Glossing Oil.
To add additional volume, run a blow-dryer through the hair on the cool setting.
Never combine blow-dryer heat with styling oil on textured hair. The combo will collapse your volumized layers.
View this post on Instagram