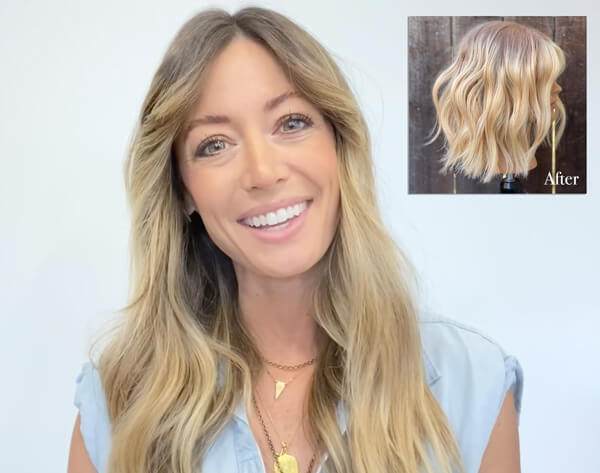 PEACHES-AND-CREAM TECHNIQUE
With Joico Celebrity Artist, Jill Buck Of Salon 901
Hair-color trends may come and go, but according to Joico Celebrity Artist, Jill Buck, of Salon Nine Zero One, juicy peach tones are here to stay. See how she incorporates this beautiful blush color into her redhead and blonde looks.
WHY PEACH IS HER PICK
"Color trends seem to come and go with spring and with fall, and we're constantly trying to evolve new looks," explains Jill. "However, one color that just seems to hang on is that beautiful peach tone." Instead of creating an allover, one-dimensional color, Jill integrates varying tones of LumiShine's Natural Warm Beige and Natural Copper – with lowlights and a shadow root that bring this peaches-and-cream look to life.
JILL'S PEACHY FORMULA AND STEP-BY-STEPS
Prep: Apply ProSeries 1 in short bursts moving down the head, and comb through to disperse.
The Root Shadow Formula: LumiShine Demi Creme 6NWB with 5 volume LumiShine Developer.
Section hair into 3 parts, clipping the front pieces out of the way.
Stating with the back section, apply root shadow all over natural color and/or highlights, keeping your application in a V-shape for a natural look.
Move on to the front 2 sections, working in a triangle shape; apply root color only at the roots. Be sure to check your balance as you work through the hair.
Using a wide-tooth comb, work the color that you've just applied into hair throughout the head.
The Lowlight Formula: LumiShine Demi Liquid 9NWB + 8NC with 5 volume LumiShine Developer.
Starting with the front, take a diagonal back-parting and apply lowlight to the rest of the hair, meeting the root shadow color that's already processing. Work your way through the hair, foiling as you go.
Apply all-over toner using the same formula to highlights, combing through the hair thoroughly.
Process for less time than the lowlight to achieve a lighter shade.
Rinse and finish with Joico ProSeries 2.
View this post on Instagram