TIK TALK!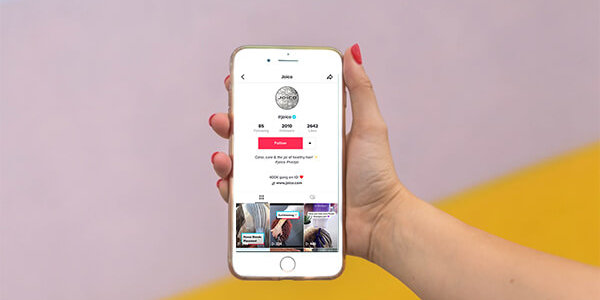 As the slogan goes, Make every second count. And @Joico is doing just that — live on Tik Tok with exciting new tips, tricks, and demo videos that will get your creative engines revving! Even better? We've teamed up with Tik Tok sensation/comedienne, @KallMeKris, who's been having a hoot playing with her fav hair products…and keeping 22 million followers laughing at her zany and joi-ful posts.
@KALLMEKRIS LIVES IT UP WITH BLONDE LIFE…
She's perky, pretty, and very, very platinum – which is probably why this social-media sensation's been talking up the Blonde Life Collection online lately. Leave it to Kall Me Kris to take viewers into the shower with her (don't worry – it's all G-rated), as she cleanses with Blonde Life Brightening Shampoo and Conditioner; then follows with Blonde Life Brightening Masque to ward off breakage of her super-fragile fair hair.
Styling is up next:
– Defy Damage Protective Shield: She works this into her playful bob to detangle, amp up shine, and protect hair from styling damage.
– Dream Blowout Thermal Protection Crème: This is her go-to before blowdrying, as it cuts the task time in half.
– Flip Turn Volumizing Finishing Spray: After creating few casual curls using her flat iron, she gives hair a quick spritz of Flip Turn for holding power.
View this post on Instagram
Come visit us @joico…we've got music, cool hair videos,
and a whole lot of joi just waiting for you!