COLOR THAT STEPS UP
With Joico Global Brand Storyteller, Olivia Smalley
"Our client confessed that her hair was feeling dull, and she wanted color to pop without getting a full head of highlights," explains Joico Global Brand Storyteller, Olivia Smalley, of her recent foil magic on a cut-and-color collab with Joico Global Artistic Director, Richard Mannah. The answer? Olivia's brilliant Stairmaster technique – an over-directed foiling method that covers a lot of ground with far less effort.
The Stairmaster Technique: a Q & A with Olivia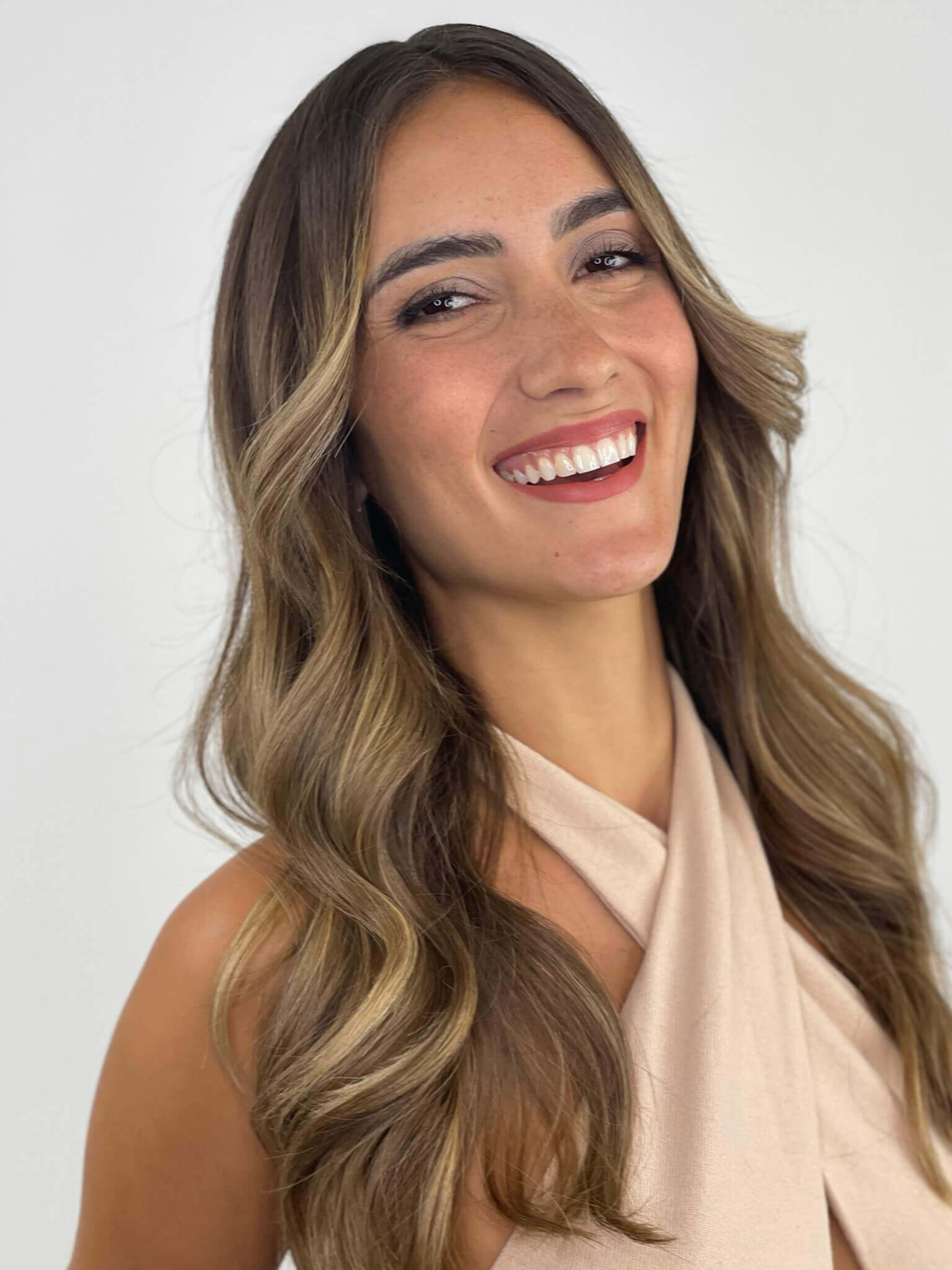 Joico: Did you go into this collaboration knowing exactly what you'd do with her color?
Olivia: Honestly, my vision for this client was clear from the moment we started our consultation. She had previously lightened ends, but it had been a while since she'd done anything to her hair. She needed a bright pick-me-up and something low-maintenance, that suited her easygoing lifestyle.

Joico: Help us understand this Stairmaster Technique…
Olivia: The reason the Stairmaster got its name is because of the use of over-direction in the technique. After you over-direct the hair forward and you pull it back, it creates a stair effect. Think about it…each foil is over-directed to the same spot on the forehead; however, each section travels a different amount to get there. The ones that travel further will start lower than the ones that traveled less. After you finish the last foil, bring them all up to the top of the head and you can really see the stair effect.

Joico: Can you tell us about the shades you used
Olivia: I chose to work with the NWB family for tonality, because it delivers extremely well-balanced neutral, warm, sunkissed tones.
Joico: And why was this the right move for your client?
Olivia: It was clearly the best choice because we were able to add lightness that blended her existing color, while maintaining the rooted look. The Stairmaster is great for someone who has previously lightened hair and has a lot of regrowth. This technique allows you to cover a lot of ground without having to do a full foil. The use of overdirection in this technique allows you to achieve more coverage without working any harder. It's a win-win!

Joico: Who can wear it?
Olivia: This look is excellent for blondes and brunettes alike. This is my go-to low maintenance technique.

Joico: And how did the collaboration with Richard unfold?
Olivia: Truly, it was incredible. He is such a talented hairstylist – it was an honor to work together. Richard and I communicated with each other every single step of the way. Neither of us made any decisions without consulting the other first. Initially, we discussed both the cut and color to make sure we were on the same page. And we decided it would be best to do the haircut first and then the color to set the foundation in place. I'm obsessed with our results!
The Color Journey
Step 1: Prep with Defy Damage ProSeries1. Shake can vigorously and then spray in short bursts to 2-inch sections, combing through for even distribution. Make sure to spray away from the face for client comfort.
Step 2: Defy Damage works right away. You'll see immediate shine and softness. ProSeries1 is an easy single-step spray that requires NO formula changes, NO mixing, NO developer changes, and NO timing changes. This helps provide greater and more even lift and color deposit, as well as 5x stronger hair with 80% less breakage.
Step 3: Starting at the front hairline, begin taking fine horizontal slices. Weave and tease each slice and apply Formula 1. All the foils will be over-directed forward and will sit on the client's forehead. Continue this process throughout the mohawk section to the back of the head. Each time you tease, you'll want to tease once more, and then tease the section before that again (tease once, twice, three times, etc. as you move along).
Step 4: Repeat the same steps on the sides with a diagonal back sub-sectioning. The over-direction forward creates a beautiful, seamless, Stairmaster-graduation effect — no root-melt required.
Step 5: Process the foils until desired lift is reached. Shampoo with Blonde Life Brightening Shampoo. Apply Formula 2 to tone, and process up to 20 minutes until desired shade is reached. Apply Defy Damage ProSeries2 for 5 minutes to rebuild the bonds of the hair and nourish each strand.
Step 6: Dry the hair and style as desired using your favorite Joico products.