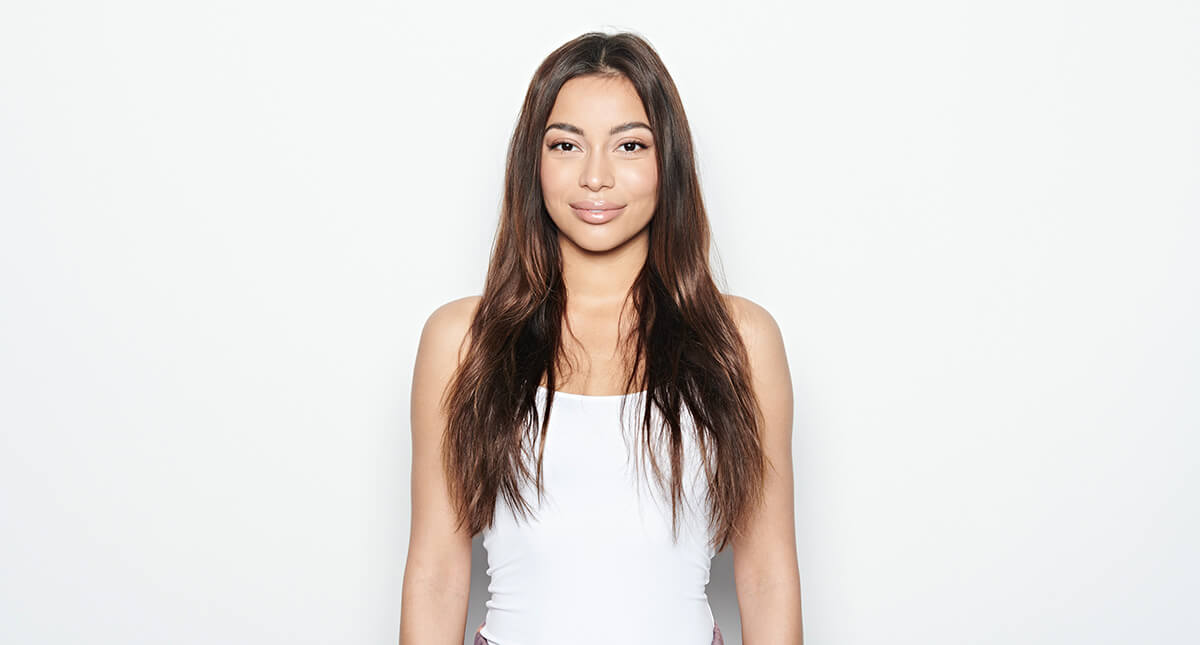 Power Melt Technique by Joico Brand Ambassador Larisa Love
"A powerful transformation with a fluid blend. This technique can be utilized for any stylist behind the chair because blended color will always be on trend and allows the hair to have a soft grow out without a harsh demarcation line. This is perfect for the client that wants a low maintenance color with a soft grow out. "-Larisa Love
COLOR FORMULAS
Client: Krislian; Natural Level 4 with previous color

Prep: Defy Damage ProSeries 1: Bond-Protecting Color Optimizer Spray

Formula 1: Blonde Life Powder Lightener with 15 Volume (10 + 20 Volume) LumiShine Developer working up to 35 Volume (30+40 Volume)

Formula 2: Blonde Life Quick Tone Liqui-Crème Toners Sand + Clear + Violet with 5 Volume LumiShine Developer

Formula 3: (Base Toner) LumiShine Demi-Permanent Liquid 7N with 5 Volume LumiShine Developer

Formula 4: (Mids and Ends) LumiShine Demi-Permanent Liquid 1 oz (30 ml) 10N + 2 oz (60 ml) 10V + 1 (5 ml) cap 9V with 5 Volume LumiShine Developer

Post: Defy Damage ProSeries 2: Bond-Strengthening Color Treatment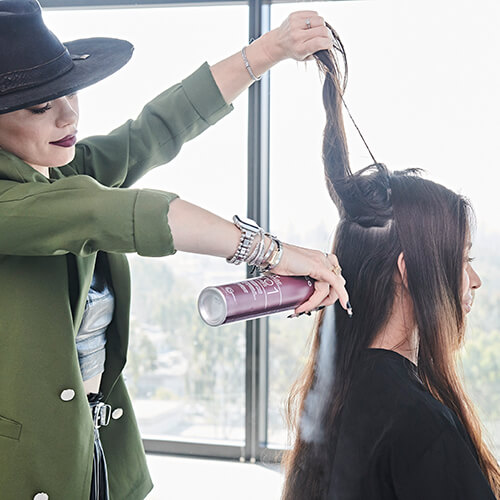 STEP 1:
Prep with Defy Damage ProSeries 1. Shake the can vigorously and then spray in short bursts to 2-inch sections and comb for even distribution. Make sure to spray away from the face for client comfort.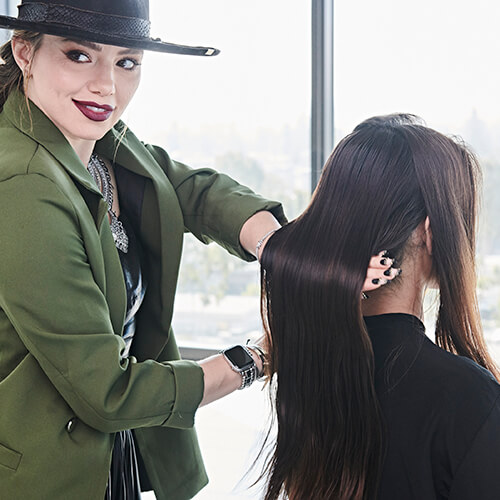 STEP 2:
Defy Damage works right away. you will see immediate shine and softness. ProSeries 1 is an easy one-step spray that requires NO formula changes, NO mixing, NO developer changes and NO timing changes. This step will help provide greater and more even lift, greater and more even color deposit.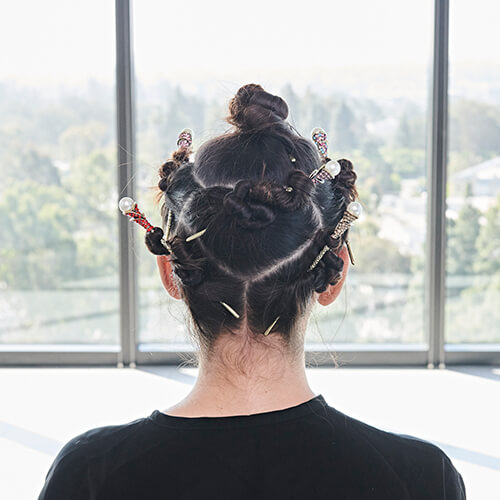 STEP 3:
Create a large horseshoe section from corner of the brows to the crown.
Make a large inverted triangle off the crown that extends to below the occipital bone. Split the bottom section into two that extends to behind the ears. This will create 6 total sections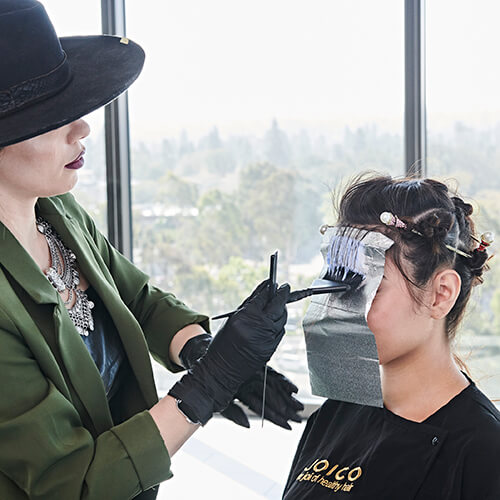 STEP 4:
Starting in the top large section off the front hairline, take a horizontal weave and apply Formula 1 making sure to feather at the root area.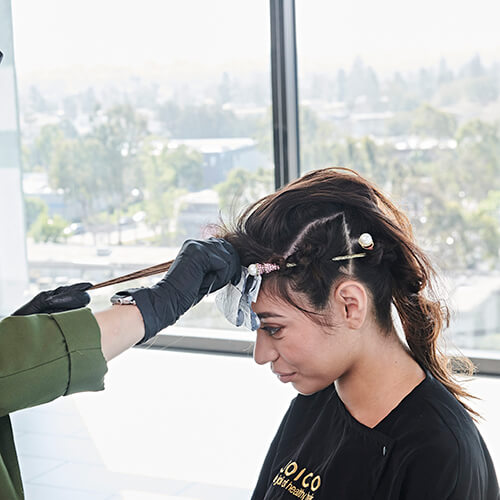 STEP 5:
Continue taking horizontal back to back weaves and applying Formula 1. As you work towards the back, start to tease the base to create a diffused look that adds depth and dimension. Do 2 large weaves with a tease back to back then a babylight working throughout the entire top section.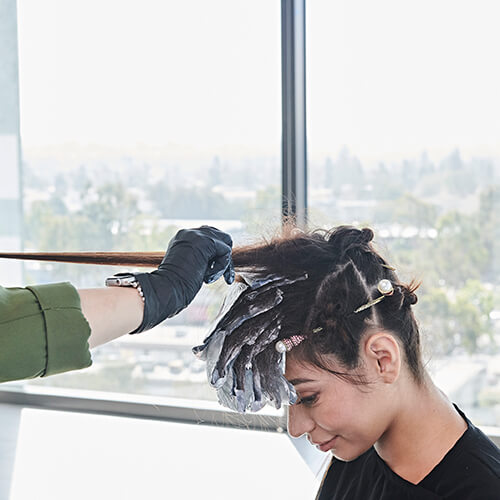 STEP 6:
When working in this manner, tease less around the face and more towards the back to keep brightness around the face and more depth towards the back.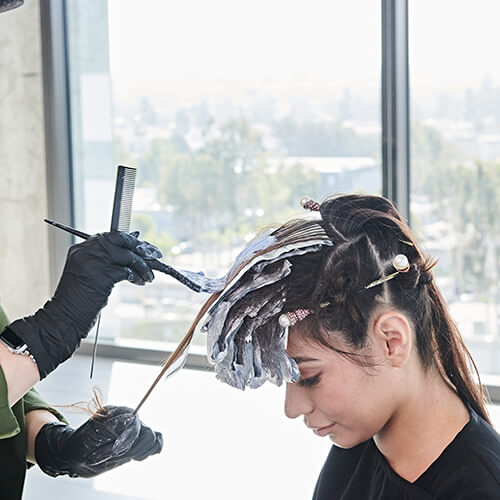 STEP 7:
As you work towards the back, up your developer by 5 Volume.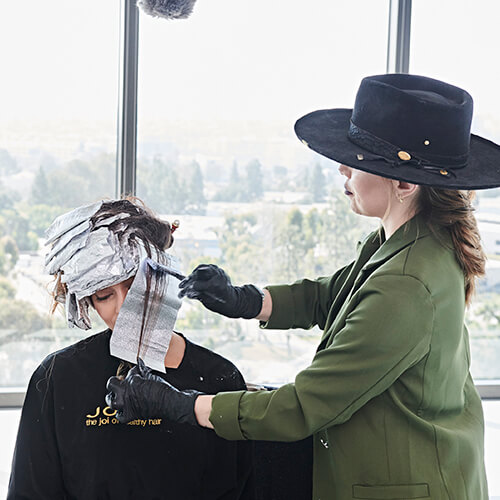 STEP 8:
Move to the front side sections. Working off the hairline, take a diagonal forward weave and apply your Formula 1 with 25 Volume (20 Volume + 30 Volume) developer. Continue your application in the same manner, creating depth and dimension by adding a deeper tease as you work front to back.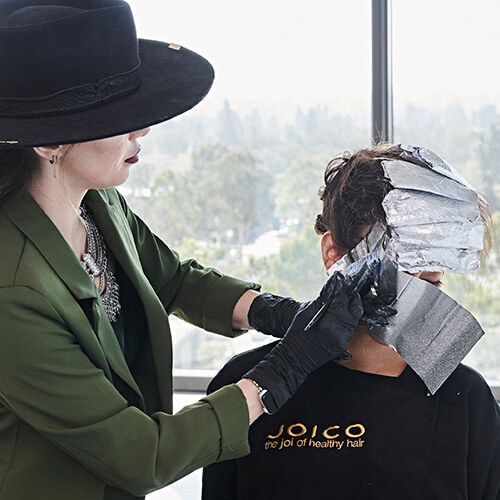 STEP 9:
Repeat on the other side.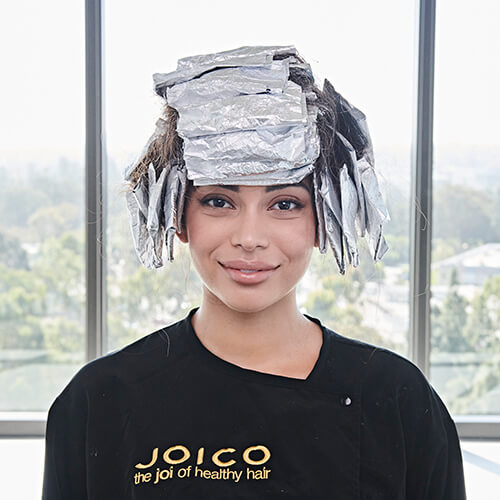 STEP 10:
If your clients hair is lifted and processed to the desired lightness, stop and rinse out the sections before moving to the next sections to maintain the health of the hair and integrity.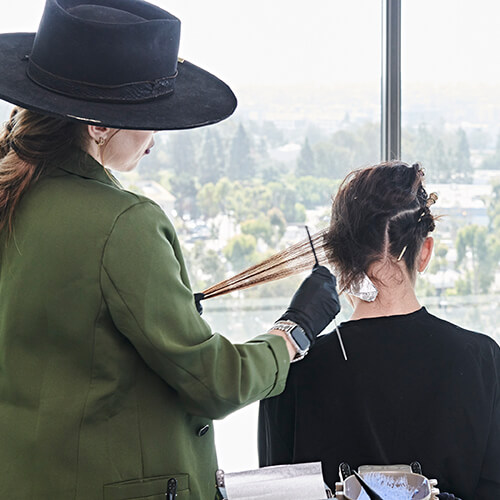 STEP 11:
Moving to the back sections, work off a diagonal angle in the same application method starting at the side hairline. Apply Formula 1 with 30 Volume LumiShine Developer.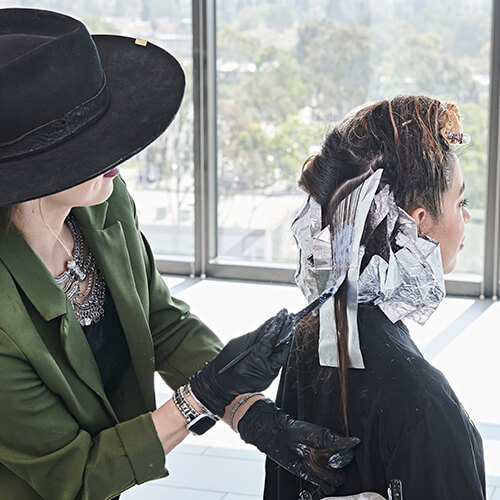 STEP 12:
Continue the same application until both back-bottom sides are complete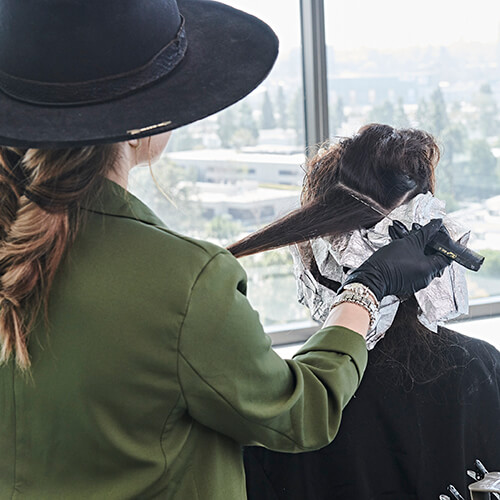 STEP 13:
Working in the top section off a diagonal, use 35 Volume for Formula 1 and apply in the same manner until the top section is complete.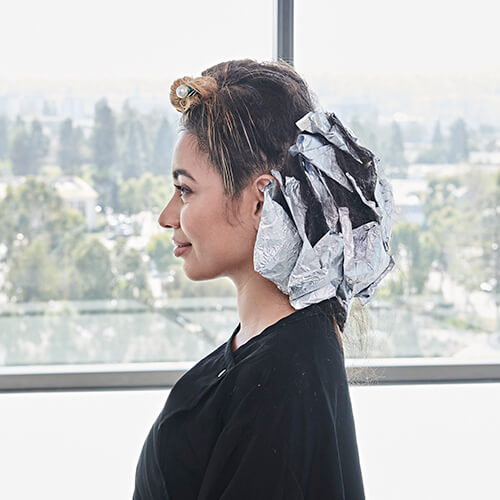 STEP 14:
Process until you reach a level 9 or desired lightness per your consultation with your clients.
Shampoo and rinse with Defy Damage Protective Shampoo. Apply formula 2 at the bowl for up to 5 minutes to pre-tone the hair if there is extra or stubborn unwanted warmth.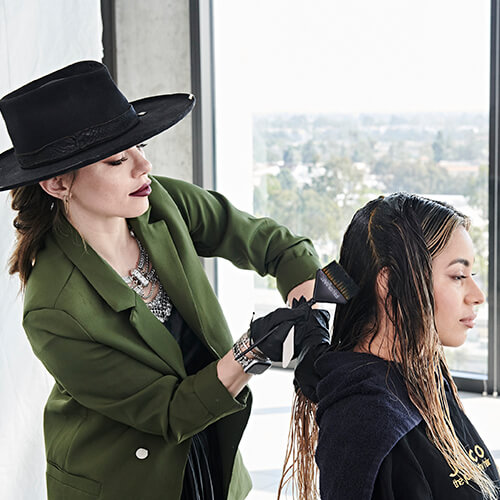 STEP 15:
Apply formula 3 in a tear drop application throughout the entire head.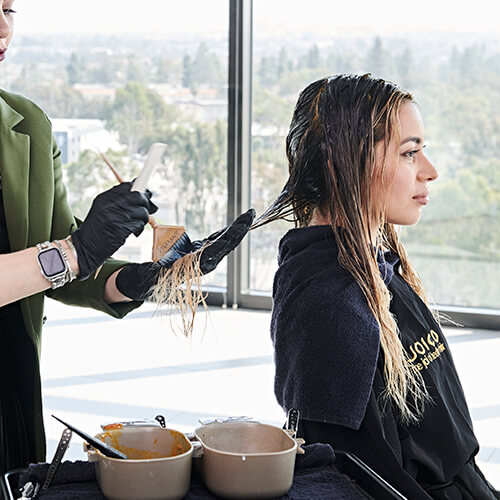 STEP 16:
Apply formula 4 from mids to ends. Process for 10-15 minutes or until the unwanted warmth is refined.
Rinse with Defy Damage Protective Shampoo. Apply Defy Damage ProSeries 2 and process for 5 minutes. Rinse and style with your favorite Joico Styling products.